---
COMPLIANCE AND CARGO CONDITION MONITORING & TRACKING
---
PROBLEM STATEMENT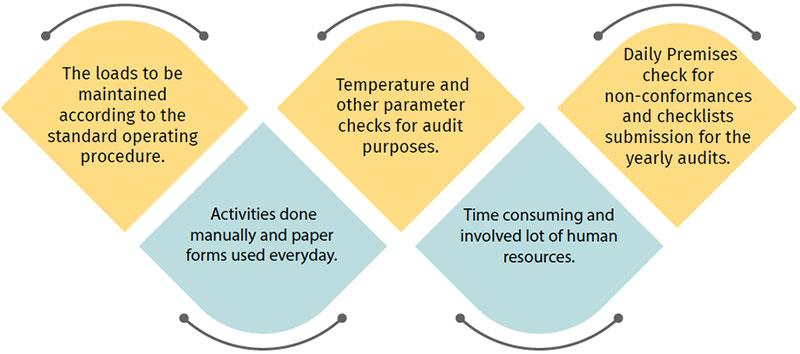 SOLUTION BUILT USING THE ANJU PLATFORM
Daily Checklists
• Warehouse staff fll in the checklist using the tablet which allows the staff to upload photos as and when required.
• The checklist options are populated based on the selection done by the warehouse staff, which makes entry easier.
• Non-compliances generate CARs which are tracked to closure
•All checklist reports are available for audits and other purposes in the system.
Approved Arrangment
• Repository of latest documents arranged in folders for the staff to access.
• Amendment request are raised for documents that needs changes, this request goes through approvals for document change
Cargo Condition Report
• Capture Cargo Condition Details based on Mode of transport, damages noticed if any.
• Enforce mandatory photos to be attached to the report.
• Images are captured for all types of damages seen in the load.
• Customer Service and Operations teams are notified of new Cargo Condition Report.
• Customer Service team has the option to send the cargo condition report along with all the attachment pictures to the customer through the application.
BENEFITS FOR CUSTOMER